60 Billion Probiotic for Men & Women 30 Capsules, Subscription & Save 15% (Cancel Anytime)
Ultimate Digestion: Based on 178 Clinical Trials | 60 Billion CFUs,17 Strains.
Patent-Pending Organic Whole Food Prebiotic + Inulin with Saffron.
For Digestion, Immune, Energy & Performance. Vegan, Gluten, Dairy & Soy Free.
WE REALLY ARE DIFFERENT. HERE'S WHY:
Based on 178 clinical studies: Formulated for ultimate digestive health, which powers stronger immunity,  better cholesterol & blood sugar health, sounder sleep, less anxiety, higher energy, and an overall feeling of well-being.   
60 Billion CFUs of the 15 top researched probiotic strains that bring the most benefits to you. 
Patent-Pending Organic Whole Food Prebiotic with inulin to support healthy intestinal bacteria. 
Organic Saffron, found in multiple clinical studies to elevate mood & alleviate anxiety, promoting sounder sleep.
100% Natural: NO Fillers, Additives, GMOs, wheat, peanuts, shellfish or other allergens. Gluten & Dairy Free. 
Extensive in-house and 3rd party testing. Manufactured in the USA in an NSF certified & FDA Registered facility. 
All ingredients sourced in the USA. 
Patented Activ-Polymer Bottle seals in freshness. Needs no refrigeration. Guaranteed full potency until expiration. 
Patented Delayed Release Capsule ensures probiotics go deep into your intestinal tract to do their work. 
Full Label Disclosure: You see the exact amount of each ingredient in BROAD PRO, unlike our competitors that just show "proprietary formula". 
2% of profits from 60 Billion Probiotic sales are donated
to the National Breast Cancer Foundation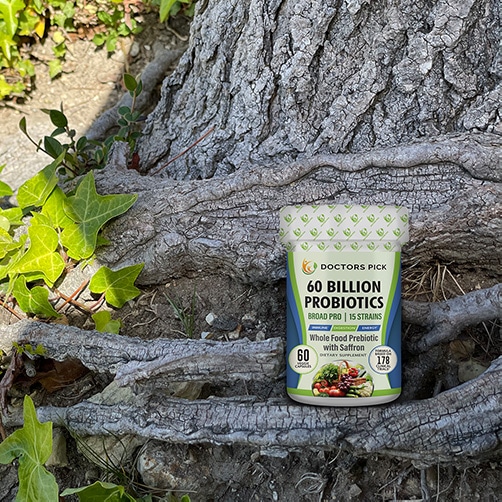 Made Right. Two Patents and one Patent-Pending:
• Patented Bottle Technology: Potency assured.
• Patented Delayed Release Veggie Capsule: Probiotics survive stomach acids .
• Patent-Pending Inubio™ Organic Prebiotic + Saffron: Supports probiotics,
weight control, healthy gut lining.
• Saffron boosts mood & well-being.
Probiotics in Effective Amounts
We use an amount of each probiotic strain in FEM PRO that clinical trials indicate will bring the most potential benefits for your health.
We don't cut corners or load our capsules with the cheapest probiotic strains to save money.
BROAD PRO is formulated to be the best for you and available at an affordable price.
Organic Whole Food Inulin-Rich Prebiotic
–410 mg of our Organic, Patent-Pending Inulin Rich Prebiotic with Whole-Food Chicory Root, Jerusalem Artichoke, and Inulin fibers.
• Helps probiotics thrive.
• Supports weight control.
• Fights "leaky gut" syndrome.
• Fights "leaky gut" syndrome.
• Helps improve bowel regularity.
Called "Red Gold" and "Miracle Herb", Saffron has been shown in multiple clinical studies to have mood elevating and stress reduction qualities.
• Supports higher energy, sounder sleep, skin radiance & mental focus.
• Can help women with PMS & menopausal symptoms.
Clinical Trial References for BROAD PRO Formulation
At Doctors Pick, we only formulate nutritional products based on solid clinical evidence of potential benefits to you.Here is a list of the clinical trials, almost all on human participants,used as the basis for formulating BROAD PRO.
Exciting research links the role of the trillions of bacteria in your gut, called the "microbiome", to a key role in a strong immune system. A healthy microbiome potentially lessens your chance of a host of maladies including autoimmune disorders, inflammatory diseases, certain allergies and  weak immune function. 
BROAD PRO contains key Bifidobacterium and Lactobacillus probiotic strains that clinical trials indicate can help strengthen your immune system. These include B longum,  B infantis, L Reutari and L bulgaricus.  
"A Healthy Gut = Healthy Life"
Digestive Health and Probiotics
We designed BROAD PRO to give deep digestive support to women. 
Our special women's formula includes multiple  key probiotic strains like B coagulans and B bifidum, L reutari and L plantarum. Numerous clinical studies show these powerful probiotic strains can support digestive comfort, regularity, help fight IBD, IBS, and abdominal pain and bloating. 
BROAD PRO also comes with Saccharomyces Boulardii, shown in multiple clinical studies to potentially alleviate diarrhea.
Probiotics can play an important role in urogenital health for both men and women. 
Multiple clinical studies show that key Lactobacillus probiotic strains in BROAD PRO, which include L acidophilus, L rhamnosus and L reuteri, can support urogenital health in men and women. 
For women, these probiotics also promote vaginal pH balance, help fight UTIs and protect against bacterial vaginosis and yeast infection.
Mood, Stress, Sleep and Your Gut
Bacteria in your gut help produce key neurotransmitters, like serotonin, the "happiness hormone", dopamine, and gamma-aminobutyric acid, which all play a major role in regulating mood and stress; and melatonin, a crucial hormone needed for a good night's sleep.
Clinical studies indicate that Lactobacillus probiotic strains in BROAD PRO, including the key probiotic, L casei, supports better mood, stress alleviation, cognitive function and sounder sleep. 
Exciting early research indicates S boulardii may also help fight the onset of Alzheimer's disease.